Hoover Dam Express Luxury Bus Tour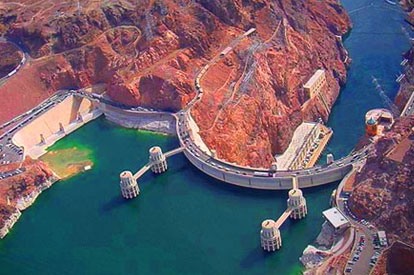 GUIDED LUXURY MOTORCOACH TOUR TO THE AMAZING ENGINEERING MASTERPIECE, THE HOOVER DAM!
Itinerary Details
Visit one of the greatest man-made wonders ever, the Hoover Dam. Your day starts with you being picked up at various hotels and casinos along the Strip, and after a short drive, you will have breathtaking photo opportunities of the Hoover Dam. Your tour will start by driving across the behemoth wonder known as the Hoover Dam. On your left you will be amazed at the millions of gallons of water the Dam holds, looking off to the right side you will see the sheer depth of the concrete wall of the Hoover Dam.
Off in short distance, you will witness the Mike O'Callaghan–Pat Tillman Memorial Bridge. This breathtaking wonder spans the Colorado River and connects the states of Nevada and Arizona. After crossing the Dam, your guide will take you to great photo taking sites, where you are able to photograph both the Hoover Dam and the Mike O'Callaghan–Pat Tillman Memorial Bridge. After your photo opportunity, you'll cross back over the Hoover Dam and visit the Mike O'Callaghan–Pat Tillman Memorial Bridge. Your guide will share the many facts and emotional stories of how the bridge was named. You will have the opportunity to walk the Memorial Bridge and photograph the Hoover Dam from a viewpoint that is considered to be the best and most awe-inspiring views of the Hoover Dam. After this fantastic experience, you will have one more stop at the Lake Mead Visitor Center. Take a relaxing walk through the trails of a small cactus garden or explore inside the Visitor Center to watch an informative video explaining the natural habitat and many wonders around Lake Mead and the Hoover Dam. There is also a small Discovery Museum and gift shop with National Park passport stamp and a visitor sign in. 
Our Hoover Dam Luxury Bus Tour is a little different from all other
bus tours in town. We have the only tour which does not use a check-in
terminal. Instead, we pick up straight from select Strip hotels or
downtown. Why does this matter to you? Simple, we have later pick up
times and earlier drop off times… so you get to sleep in a little later
and get back to your hotel a little earlier!
Our driver/guides are
trained and will provide you with interesting facts, stories, and
information during your journey. To make your trip more comfortable the
bus is equipped with adjustable airline-style seating, a unisex lavatory
for passenger convenience and overhead monitors for in route movies.

If you have limited time or would like a short yet exciting tour that is close to Las Vegas, this is the one for you. You'll capture breathtaking photo opportunities, be able to walk across the amazing arched Memorial Bridge, and visit one of Nevada's less known visitor centers. This is all at a fantastic price
This guided tour is approximately 4.5 hours and makes for a perfect half day adventure. Pick-ups start at approximately 8 AM and drop-offs are at approximately 12:30 PM.


Bottled water and breakfast snacks are provided complimentary 


We use newer luxury motor coaches with comfortable airline-style seats and large windows that offer panoramic views.


All of our driver/guides meet the US Department of Transportation's most rigorous safety and skill standards.